Dr. Yond's Zombie Experiment
This is my entry in the Mouse Movement Jam (#2). [EDIT: where it won first place!]
Use your mouse to fly around the screen as evil Dr. Yond, who has been creating zombies. Thanks to an earlier and unrelated experiment, Dr. Yond is now just a giant disembodied brain. Turns out zombies love brains and find Dr. Yond irresistible. I'm just not sure how well this plan was thought through...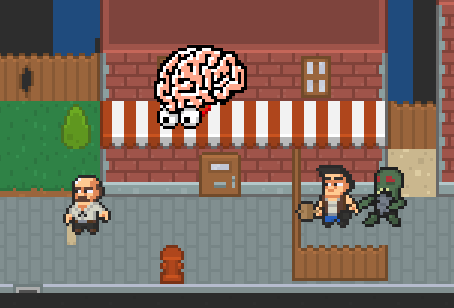 OBJECTIVE:
Reach the right side of the level with as many zombies as you can before the timer runs out. (It's not easy, but it is possible!)

CONTROLS:

As if you can control a zombie! The best you can do is move your giant floating brain around the screen. Zombies will follow it as well as they can. Note that if the brain is higher than the zombies, they will jump; if it is lower, they will not.
WHAT PLAYERS ARE SAYING:

"Joe, I played your game yesterday with my 6 year old and she loved it. This morning at breakfast she said she wanted to show it to her mom, and I said there wasn't time before school, and she started to cry.
"YOUR GAME MADE MY KID CRY, YOU MONSTER" — Shawnaroo
(Any donations will go to support the development of Mini Micro, so other people can make cool retro games with it too!)
SOURCE CODE: available on GitHub. Share and enjoy!

Comments
Log in with itch.io to leave a comment.
Can you make it open-source ?
Sure! That's a good idea. I'll try to put it up on GitHub in the next few days.